Last update: 28.11.2023
Visitors on-line: 116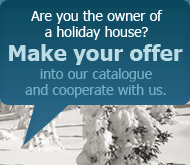 Agentura Chata Tour s.r.o, Ant. Barcala 21. 370 05 České Budějovice, www.chatatour.com

Netolice - cottages in the area near the Czech Budejovice, mushroom picking, hiking, Holašovice:
Rental cottages in Netolice is suitable for all who are looking for a holiday stay at the cottage. Holiday stays in České Budějovice provide the opportunity to visit historical and cultural monuments of the city Netolice, but also the surrounding areas.
continuation...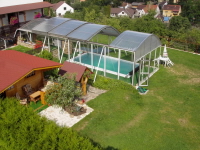 Object code: CH-026 Rent possible 1.6. - 30.9
Holiday cotagges are located in a private well kempt garden family house in a marginal part of the town Netolice with very nice view of the town which lies in a beautiful countryside of the Bohemian-forest foothills. Summer is ideal for hiking and mashrooming in surrounding woods. There are a nice garden with a covered heated swimming pool 6,5 x 3,5 x 2,3 m, fireplace, pergola and nice sitting in a covered hall. On inquiry it is possible to order a masseur or a cosmetician. The owner agrees with building a tent in the garden (in case of the capacity overrun with fee of CZK 1.000/person and week).
Possibility of 2 extra beds á CZK 1.000/person and week).
free periods and order here include in my selection recommend the object via e-mail
capacity: Nr.of persons: 8, Nr.of bedrooms: 3
Category:

Summer price from: 18900 CZK
Low season price from: 18900 CZK
Prices for the whole object and week.
Guests´ ranking:










more in object detail






















Look up a recreational object according to your ideas or choose a region in the map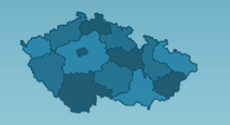 /* // vyrazeno addthis */