Last update: 24.3.2023
Visitors on-line: 95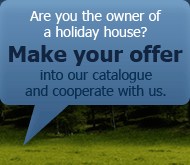 Agentura Chata Tour s.r.o, Ant. Barcala 21. 370 05 České Budějovice, www.chatatour.com

Beskydy - houses in the mountains, skiing, hiking, swimming, water park:
 Beskydy stretch in the most eastern part of the Czech Republic, on the boarder of Slovakia and Poland. They are divided into the Moravskoslezské and Slezské Beskydy - Holiday at the cottage Beskydy. Their nature is what welcomes its guests first, as well as charming preserved area - Family vacation Beskydy. There are ideal conditions for sports activities and for spending a great relax for all the family - Holiday for families with children Beskydy. Do not miss the local folklore, the folk architecture and visit places with a traditional and rich history, such as Rožnov pod Radhoštěm, the bottom of Javorník, the highest mountain of Beskydy, Babia hora and other known peaks of the Moravskoslezské Beskydy: Radhošť, Kněhyně or Smrk.
continuation...
Malenovice - - Velké Karlovice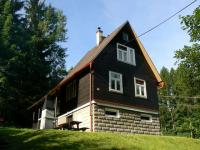 Object code: CH-050 Yearlong rent
The tastefully furnished holiday house is located near the village Malenovice (15 km from Frydek-Místek) near Beskydy, at the foot of Lysá hora. The location of the cottage will delight especially skiers in the winter, because there are two ski slopes directly at the object. In addition, skiers have the opportunity to borrow a ski-pass (max. 6 persons) for the price 150 Kč/ day (includes the day and night skiing).
You can try riding on the horses near the holiday house (2 km) during the whole year, as well as bowling and swimming pool in the hotel Bezruč (approximately 2 km). In summer you can visit the outdoor swimming pool and tennis courts in Frýdlant (approximately 5 km) and airport for sport aircrafts (sightseeing flights). Cottage near Malenovice is suitable for active holidays. The surrounding area is full of hiking, biking and cross-country trails of various difficulty levels. On the unfenced land is available sitting with a portable grill which will be for your more pleasant summer evenings. Build up area is 55 m2.
free periods and order here include in my selection recommend the object via e-mail
capacity: Nr.of persons: 9, Nr.of bedrooms: 3
Category:

Summer price from: 14000 CZK
Winter price from: 16200 CZK
New Year´s Eve price from: 34200 CZK
Low season price from: 11100 CZK
Prices for the whole object and week.














Look up a recreational object according to your ideas or choose a region in the map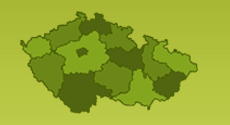 /* // vyrazeno addthis */