Last update: 5.7.2022
Visitors on-line: 121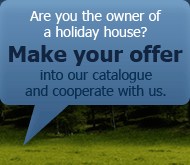 Agentura Chata Tour s.r.o, Ant. Barcala 21. 370 05 České Budějovice, www.chatatour.com

Cottage Hůrka -, Lipno
discount 7.000 CZK
Cottage Hůrka -, Lipno
discount 7.000 CZK
Drslavice, Klatovy
discount 5.000 CZK
Cottage Radslav -, Lipno
discount 2.000 CZK
Cottage Frahelž -, Třeboň
discount 2.600 CZK
Cottage Brnky -, Praha - okolí
discount 1.902 CZK
Cottage Petrovice -, Třeboň
discount 1.000 CZK
Cottage Kubova Huť -, Šumava
discount 1.000 CZK
Cottage Kovářov - , Lipno
discount 2.000 CZK
Cottage Holčovice -, Jeseníky
discount 1.100 CZK
detail discount offer
holiday homes Czech Canada, accommodation Czech Canada, accommodation with children Czech Canada:
Cottages and chalets for rent in Česká Kanada offer comfortable accommodation in a clean and well-preserved nature. The terrain is also suitable for cycling with children, the cottages with a swimming pool provide adequate facilities for a family holiday. In this area you can visit many popular tourist attractions - ruins of the Landštejn castle, town Dačice, Slavonice, alternatively you can go to the town Jindřichův Hradec or in the Novohradské mountains. Local deep forests are a paradise for mushroom and forest fruits gatherer. Rent of cottages and chalets in Česká Kanada is a good choice for all, that want to spend holiday in the beautiful countryside (mushrooming in Česká Kanada).
continuation...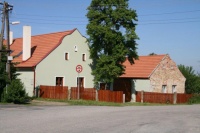 Object code: CH-059 Yearlong rent
Comfortably reconstructed cottage - farm is situated in the unspoilt countryside of the Czech Canada on the outskirts of Mysletice. Neighborhood attracts to cycling and walking trips, the cycling trail No. 5021 goes directly around the house. In the area: 7 km Telč (UNESCO), 7 km Dačice, 19 km Slavonice. Up to 300 m from the house there is a pond suitable for swimming, woods, tennis court, football pitch and playground. The cottage is situated in a quiet place with no direct neighbors. Facilities: sauna, gym with exercise bike, running band and cross machine, table tennis, WIFI. Fenced yard 1.300 m2 with garden chairs under a shelter, grill, open fireplace.
free periods and order here include in my selection recommend the object via e-mail
capacity: Nr. of persons: 16, Nr. of bedrooms: 5
Category:

Summer price from: 36500 CZK
Winter price from: 27100 CZK
New Year´s Eve price from: 64400 CZK
Low season price from: 28800 CZK
Prices for the whole object and week.
Guests´ ranking:










more in object detail




















Look up a recreational object according to your ideas or choose a region in the map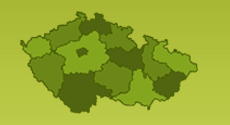 /* // vyrazeno addthis */