Last update: 20.4.2021
Visitors on-line: 92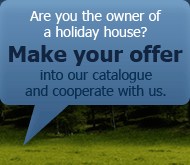 Agentura Chata Tour s.r.o, Ant. Barcala 21. 370 05 České Budějovice, www.chatatour.com

Chalets and cottages with Last Minute discount
For our clients, who may decide to pick on vacation at the last minute, we prepared an attractive offer quality and affordable stay at the cottage last minute. In the selection of cottages for holiday 2014 from the catalog "Chalets and cottages with Last Minute discount" you can save a week's stay at the cottages. Cottages Last minute rentals are permanently on offer at a discount. We recommend Catalogue "Last Minute Deals" for permanent monitoring.!
Pro rybáře
Object code: CH-573 Rent possible 1.3. - 30.11
Holiday chalets are located in a small colony on the bank of the pond where swimming and fishing are possible. The place can guarantee real privacy and peace in the immediate vicinity of the water in nicely furnitured objects. There is also a rowing boat available (for free) and 4 bikes (for a fee). You can enjoy peace and rest in the unfenced, but for the most part bounded piece of land 500 m2 wit garden sitting and fireplace, which is placed on the terrace of one of the houses, and provides the rear even when the weather is bad. Built-up area of both chalets is 60 m2.
free periods and order here include in my selection recommend the object via e-mail
capacity: Nr.of persons: 8, Nr.of bedrooms: 3
Category:


*** LAST MINUTE REDUCTION IN PRICE 2000 CZK ***
Summer price from: 12500 CZK
Low season price from: 10400 CZK
Prices for the whole object and week.
Guests´ ranking:










more in object detail
















Look up a recreational object according to your ideas or choose a region in the map