Last update: 29.1.2023
Visitors on-line: 101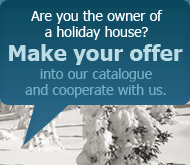 Agentura Chata Tour s.r.o, Ant. Barcala 21. 370 05 České Budějovice, www.chatatour.com

Chalets and cottages with Last Minute discount
For our clients, who may decide to pick on vacation at the last minute, we prepared an attractive offer quality and affordable stay at the cottage last minute. In the selection of cottages for holiday 2014 from the catalog "Chalets and cottages with Last Minute discount" you can save a week's stay at the cottages. Cottages Last minute rentals are permanently on offer at a discount. We recommend Catalogue "Last Minute Deals" for permanent monitoring.!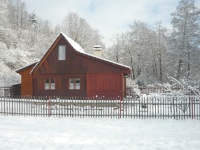 Object code: LE-671 Yearlong rent
The cozy cottage is located on the very edge of a small village Staré Dobrkovice just 3 km from Český Krumlov. In addition to the rich opportunities of recreational and cultural activities (Český Krumlov, Lipno - 15 min. drive, Zlatá Koruna), guests can enjoy quiet and beautiful surrounding countryside, including the possibility of horseriding in place (lessons for beginners) and river fishing in the trout water which neighbours on the garden. There is a fenced garden 330 m2 with garden sitting under the pergola, fireplace, grill, sand, two swings for children and a swimming pool with a diameter of 3 m. Possibility of internet access (Wi-Fi).
The garden of the house neighbours on the owner´s property.
free periods and order here include in my selection recommend the object via e-mail
capacity: Nr.of persons: 4, Nr.of bedrooms: 2
Category:


*** LAST MINUTE REDUCTION IN PRICE 1500 CZK ***
Summer price from: 14900 CZK
Winter price from: 12600 CZK
New Year´s Eve price from: 14900 CZK
Low season price from: 12600 CZK
Prices for the whole object and week.
Guests´ ranking:










more in object detail





























Look up a recreational object according to your ideas or choose a region in the map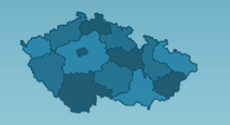 /* // vyrazeno addthis */