Last update: 28.11.2023
Visitors on-line: 106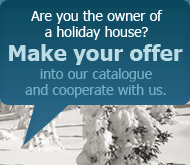 Agentura Chata Tour s.r.o, Ant. Barcala 21. 370 05 České Budějovice, www.chatatour.com

Kaplice:
 South Bohemian town Kaplice lying on the river Malša is situated in the district of Czech Krumlov on the northwest edge of the Novohradske mountains. The surrounding area offers cycling and hiking trails that are suitable for less able-bodied athletes and families with children. Holidays in Kaplice offers the possibility of exploring South Bohemia, whether visiting Blanský forest or the town Český Krumlov and České Budějovice. Holiday houses in Kaplice area provide comfortable accommodation for families or groups of cyclists, in the menu you can also select rental cottages with swimming pool. 
continuation...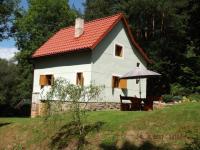 Object code: CH-257 Rent possible 1.5. - 30.10
Holiday chalet is situated in a quiet place on the way between Velešín and Kaplice in a beautiful hilly countryside of a borderland. The chalet is as the firts one on the edge of a small colony (4 chalets) just outside the river Malše and a clean dam where fishing and swimming are possible. The object can provide you many oportunities for visiting the regions of Nové Hrady, Třeboň and České Budějovice, namely by cycling and hiking tracks. There is an unfenced piece of land 200 m2 with fire, grill and sitting available. Built-up area 54 m2.
free periods and order here include in my selection recommend the object via e-mail
capacity: Nr.of persons: 7, Nr.of bedrooms: 2
Category:

Summer price from: 15200 CZK
Low season price from: 9000 CZK
Prices for the whole object and week.

















Look up a recreational object according to your ideas or choose a region in the map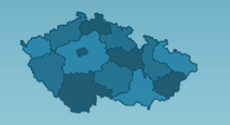 /* // vyrazeno addthis */