Last update: 20.7.2019
Visitors on-line: 49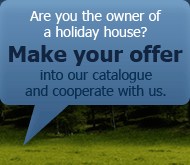 Agentura Chata Tour s.r.o, Ant. Barcala 21. 370 05 České Budějovice, www.chatatour.com

Cottage Holčovice, Jeseníky
discount 2.500 CZK
Cottage Staré Dobrkovice, Český Krumlov
discount 1.500 CZK
Cottage Boudy, Orlická přehrada
discount 2.520 CZK
Cottage Lčovice, Šumava
discount 1.000 CZK
Cottage Olešná, Orlická přehrada
discount 4.000 CZK
Cottage Jeseník, Jeseníky
discount 5.000 CZK
Cottage Rohanov, Šumava
discount 1.500 CZK
Cottage Lišky, Bechyně
discount 1.000 CZK
Cottage Staré Buky, Krkonoše
discount 1.100 CZK
Cottage Okrouhlá, Milevsko
discount 1.000 CZK
detail discount offer
Broumovsko:
Broumovsko - accommodation Broumovsko - cottages for rent Broumovsko - cheap holiday in Broumovsko. This location is a perfect starting point for hiking and cycling. Definitely worth a visit is chateaux in Nachod and Nové Město nad Metují, a Benedictine monastery in Broumov, museums, objects of military history and other interesting sights in the area. In the winter you can go skiing and cross-country skiing.
Cottage in natural park Stárkov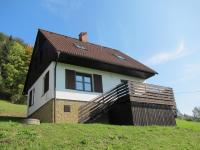 Object code: CH-102 Yearlong rent
Well equipped cottage offers comfortable accommodation and is situated in a cottage-colony in a green valley at the villag Stárkov near the Polish border. The large holiday resort, located in quiet area is ideal for families with children and lovers of pure nature, peace and relaxation.
The resort with 22 cottages offers childrens playground with a sandpit, climbing frames and swings. In the summer season also swimming pool, bouncy castle and trampolines. There is also a football pitch and a beach volleyball court. Possible is ride on horseback in the park and in the surrounding area. For a fisherman is there small private fishing pond.

There is also a childrens indoor play room, located in an old mill, with darts, football and billiards along with lots of toys for small children.
free periods and order here include in my selection recommend the object via e-mail
capacity: Nr. of person 6, Nr. of bedrooms 6
Category:

Summer price from: 14970 CZK
Winter price from: 7670 CZK
New Year´s Eve price from: 18470 CZK
Low season price from: 7870 CZK
Prices for the whole object and week.
Guests´ ranking:










more in object detail






























Look up a recreational object according to your ideas or choose a region in the map