Last update: 10.8.2022
Visitors on-line: 119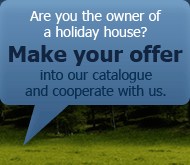 Agentura Chata Tour s.r.o, Ant. Barcala 21. 370 05 České Budějovice, www.chatatour.com

Cottage Sudoměřice u Bechyně -, Bechyně
discount 10.500 CZK
Cottage Hůrka -, Lipno
discount 7.000 CZK
Drslavice, Klatovy
discount 5.000 CZK
Cottage Olešná -, Orlická přehrada
discount 9.600 CZK
Cottage Kubova Huť -, Šumava
discount 4.200 CZK
Cottage Holčovice -, Jeseníky
discount 3.200 CZK
Cottage Brnky -, Praha - okolí
discount 2.200 CZK
Cottage Frahelž -, Třeboň
discount 2.600 CZK
Cottage Petrovice -, Třeboň
discount 1.000 CZK
Cottage Zliv -, Hluboká nad Vltavou
discount 1.310 CZK
detail discount offer
Milevsko: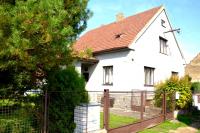 Object code: CH-033 Rent possible 1.5. - 30.9
Holiday villa is situated in the small village Okrouhlá 3 km from Milevsko and 10 km from the Orlík lake in a nice countryside alluring to cycling and walking. At the object there is a nice fenced garden 800 m2 with garden sitting, fire and swimming pool 3,6 m which provides you nice refreshment in summer days. There are three bedrooms in the object, built-up area 150 m2.
free periods and order here include in my selection recommend the object via e-mail
capacity: Nr.of persons: 6, Nr.of bedrooms: 3
Category:

Summer price from: 12600 CZK
New Year´s Eve price from: 9600 CZK
Low season price from: 8100 CZK
Prices for the whole object and week.
Guests´ ranking:










more in object detail




















Look up a recreational object according to your ideas or choose a region in the map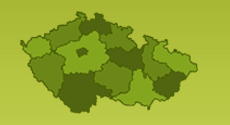 /* // vyrazeno addthis */