Last update: 9.6.2023
Visitors on-line: 169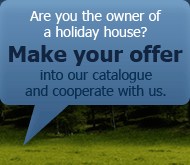 Agentura Chata Tour s.r.o, Ant. Barcala 21. 370 05 České Budějovice, www.chatatour.com

RENTAL TERMS
Who can offer a chalet or a cottage or a family pension for rent?
Which recreational facilities can offer you: cottages, apartments, villas, cottages, cottages, farms, gardens, bungalows, motor homes, houseboats, whole apartment, private room, hotels and boarding houses.
The owner (part-owner) of a recreational object, a chalet or a cottage, a family pension. .
In the kicthen and in the bathroom of the objekt there must be warm and cold water available.
In the bathroom a bath with a shower or a shower corner, a flush toilet are required.
Room composition requierements: kitchen, bathroom, WC, living room, 2 bedrooms.
Recommendations: out-door swimming pool, child-cot.
In the extra offer it is possible to provide automatic washing machine, rowing boat, canoe, table tennis, swing, sand-pit, fishing, horseriding, cycling and other free-time activities.
Cooperation principles
If you are the owner of the object meeting these conditions you can offer it to us for the registration in our catalogue on www.chatatour.cz for especially Czech clients. According to your wish we place your object into the offer for external clients. After we receive your offer we request pictures and the deblockedion and we visit the object where appropriate, we answer your questions and make a contract about renting.
According to the equipment and number of beds you set the renting price for a week staying in high and low season.
The presentation of the recreation object in the catalogue on www.chatatour.cz and on websites and in a printed catalogue abroad is for the owner free of charge.
The owner who have own websites are considered as partners ,and will be discussed to place a www.chatatour.cz link on their websites.
Detail information can be handled by phone or e-mail in our office.
If you are interested in offering your object on websites for free, fill in and send us the object offer .
OWNERS AND OPERATORS OF HOTELS, SERVICES IN TOURISM AND TRAVEL AGENCIES.
Take occasion to present your hotel, travel agency and service in tourism on the presentation a information server
Conditions valid since 15.09.2018

Look up a recreational object according to your ideas or choose a region in the map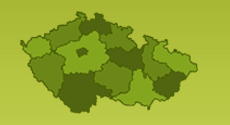 /* // vyrazeno addthis */