Last update: 12.7.2020
Visitors on-line: 94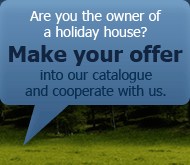 Agentura Chata Tour s.r.o, Ant. Barcala 21. 370 05 České Budějovice, www.chatatour.com

holiday homes Ratibořice:
Ratibořice is a local part of the town Česká Skalice and are famous especially thanks to the writer Božena Němcová who spent her childhood here and placed to this environment the story of her book Babička (Grandmother). The place is popular also for its Baroque castle with the chapel. With Ratibořice the Babiččino valley is connected (the Grandmother´s valley - protected area, national cultural heritage) which is located in the valley of the river Úpa north of Česká Skalice.  
continuation...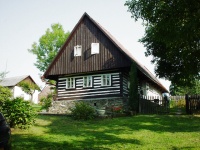 Object code: CH-227 Rent possible 1.5. - 30.10
Stylish timbered holiday cottage is located in a small village Lhota pod Hořičkami 5 km from Ratibořice. Local countryside attacts to its learning: the lake Rozkoš 5 km, ZOO Dvůr Králově nad Labem 15 km, the rocks of Adršpach and Teplice to 35 km, Krkonoše and Orlické mountains to 30 km. Ideal for cycling! There is a partly fenced piece of land 700 m2 with garden sitting, fire and grill, for refreshment there is a swimming pool 7x3 m (conjoint with a neighbouring mini-camp). Built-up area 200 m2.
free periods and order here include in my selection recommend the object via e-mail
capacity: Nr.of persons: 6+2, Nr.of bedrooms: 3
Category:

Summer price from: 14100 CZK
Winter price from: 12900 CZK
Low season price from: 8500 CZK
Prices for the whole object and week.
Guests´ ranking:










more in object detail



















Look up a recreational object according to your ideas or choose a region in the map