Last update: 10.8.2022
Visitors on-line: 113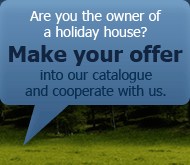 Agentura Chata Tour s.r.o, Ant. Barcala 21. 370 05 České Budějovice, www.chatatour.com

Cottage Sudoměřice u Bechyně -, Bechyně
discount 10.500 CZK
Cottage Hůrka -, Lipno
discount 7.000 CZK
Drslavice, Klatovy
discount 5.000 CZK
Cottage Olešná -, Orlická přehrada
discount 9.600 CZK
Cottage Kubova Huť -, Šumava
discount 4.200 CZK
Cottage Holčovice -, Jeseníky
discount 3.200 CZK
Cottage Brnky -, Praha - okolí
discount 2.200 CZK
Cottage Frahelž -, Třeboň
discount 2.600 CZK
Cottage Petrovice -, Třeboň
discount 1.000 CZK
Cottage Zliv -, Hluboká nad Vltavou
discount 1.310 CZK
detail discount offer
Vodňany – cottages and chalets in the pond areas, fishing, mushroom picking, families with children, chateau, Kratochvíle:
Vodňany is a town in the Strakonice district in the Southbohemian region, 29 km northwestern from České Budějovice on the Blanice river. The town is famous for its fishing and fishpond cultivation tradition. Recreational cottages and chalets are available to you there for the whole year. Vodňany offers outstanding natural and cultural conditions for tourism. In case of summer tourism we have prepared cottages for families with children and cheap accommodation in cottages or chalets in our offer.
continuation...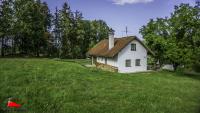 Object code: CH-062 Yearlong rent
Recreational chalet is located in a hamlet 1 km from the village Chelčice which is famous for its fruit growing. Surroundings are full of ponds, fruit groves and forests satisfying the dreams of every mushroom-picker, and offer ideal holiday for families asking for the peace, privacy and ease in a perfectly furnitured new house. Nearly the whole object is without carpets, and suitable for allergic persons. There is a large garden 3.000 m? with a garden furniture and a sunk swimming pool 2 x 3 m. Ground floor 80 m?. On request it is possible to make use of 4 trek bikes.
Weekend stayings are possible after agreement in low season.
free periods and order here include in my selection recommend the object via e-mail
capacity: Nr.of persons: 8, Nr.of bedrooms: 2
Category:

Summer price from: 14900 CZK
Winter price from: 14900 CZK
New Year´s Eve price from: 18300 CZK
Low season price from: 13500 CZK
Prices for the whole object and week.
Guests´ ranking:










more in object detail















Look up a recreational object according to your ideas or choose a region in the map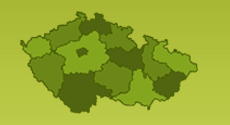 /* // vyrazeno addthis */