Last update: 6.6.2020
Visitors on-line: 66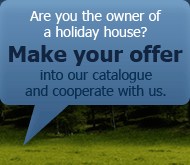 Agentura Chata Tour s.r.o, Ant. Barcala 21. 370 05 České Budějovice, www.chatatour.com

Accommodation – holiday – chalets and cottages Podblanicko:
Penzion Hrnčíře Hrnčíře - pod Blaníkem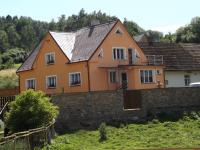 Object code: PE-732 Yearlong rent
Pension Hrnčíře is located in the same-named village near the town of Vilice on Podblanicko. Podblanicko is the name of the area around Great and Small Blaník and includes 9 municipalities belonging to the district Benešov. Site undergoes many hiking and biking trails. (cycle path number 1178).
Pension Hrnčíře is located near wood and ponds, there are good conditions for mushrooming and fishing. In the area it is possible to buy organic food and regional products from local farmers, farmers and beekeepers. In the village, you can visit organic farms Hrajovice Lisa. In the village Vilice is a clay tennis court. On hot summer days you will appreciate the swimming natural swimming pool Kamberk, which is located about 0.5 km from the property. On a trip to visit the historic town of Tabor, on the ruins Šelmberk, Vlašim Chateau, Chateau Louňovice pod Blaníkem or to Chýnovským caves.
detail – request - reservation include in my selection recommend the object via e-mail
capacity: 24, 5
Category:

Summer price from: 280 CZK
Winter price from: 280 CZK
Low season price from: 280 CZK
Prices for person and day













Look up a recreational object according to your ideas or choose a region in the map