Last update: 20.1.2020
Visitors on-line: 67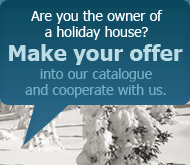 Agentura Chata Tour s.r.o, Ant. Barcala 21. 370 05 České Budějovice, www.chatatour.com

Accommodation – holiday – chalets and cottages Mnichovo Hradiště: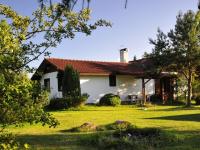 Object code: CH-093 Yearlong rent
The holiday house is built in the village Maníkovice next to fields in a protected water zone near Mnichovo Hradiště in Central Bohemia. Calm village with views of the countryside lies at the junction between Prague and the Czech mountains, in the vicinity of the Český Ráj, uniquely labeled in the middle of hiking trails. The village is very popular for a myriad of bike and hiking trails located nearby. Holiday house with beautiful views of the surrounding countryside and forests is a good place for all fans of cycling and all those who want to experience the landscape and attractions of Mladá Boleslav. Guests have access to a large fenced yard with two terraces, garden chairs with parasol and barbecue. For the youngest children, a 2x scooter, pedal go-karts and 2 childrens bikes. Parking is permitted on the property. Accommodation is suitable for families with children and for a peaceful and relaxing holiday.
free periods and order here include in my selection recommend the object via e-mail
capacity: nr.of persons 7+1, nr.of bedrooms 4
Category:

Summer price from: 24200 CZK
Winter price from: 15300 CZK
New Year´s Eve price from: 30500 CZK
Low season price from: 15300 CZK
Prices for the whole object and week.
Guests´ ranking:










more in object detail



























Look up a recreational object according to your ideas or choose a region in the map