Last update: 10.8.2022
Visitors on-line: 119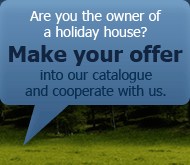 Agentura Chata Tour s.r.o, Ant. Barcala 21. 370 05 České Budějovice, www.chatatour.com

Cottage Sudoměřice u Bechyně -, Bechyně
discount 10.500 CZK
Cottage Hůrka -, Lipno
discount 7.000 CZK
Drslavice, Klatovy
discount 5.000 CZK
Cottage Olešná -, Orlická přehrada
discount 9.600 CZK
Cottage Kubova Huť -, Šumava
discount 4.200 CZK
Cottage Holčovice -, Jeseníky
discount 3.200 CZK
Cottage Brnky -, Praha - okolí
discount 2.200 CZK
Cottage Frahelž -, Třeboň
discount 2.600 CZK
Cottage Petrovice -, Třeboň
discount 1.000 CZK
Cottage Zliv -, Hluboká nad Vltavou
discount 1.310 CZK
detail discount offer
Family vacation at the cottage and the cottage Břeclav:
 Břeclav is a gate to the Lednicko-valtický area. You can choose accommodation in a cottage camp Dolní Věstonice from our offer. If you spend your holidays in this camp, you can visit sights abandoned ages ago by the Lichtensteins. Directly in the town of Břeclav it is possible to visit the St. Wenceslav church, the Virgin Mary Visitation church. You can also visit the chateau of Lednice, the chateau of Valtice and the chateau of Mikulov in the surrounding.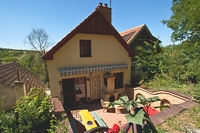 Object code: CH-163 Yearlong rent
Stylish wine cellar after the complete recontruction is located in the attractive vine area od South Moravia. In close surroundings you can find: protected landscape area Pálava, lakes Nové Mlýny, Lednicko-valtický areal, Mikulov. Ideal for cycling and in-line skating. In the object there is a beautiful wine cellar with sitting and fireplace. According to clients´s wishes we can prepare a banquet dinner, wine degustation and vine-grower´s comment. Garden furniture, grill, smoking chamber available. Built-up area 50 m2.
free periods and order here include in my selection recommend the object via e-mail
capacity: Nr. of persons: 12, Nr. of bedrooms: 3
Category:

Summer price from: 49000 CZK
Winter price from: 42000 CZK
New Year´s Eve price from: 49000 CZK
Low season price from: 42000 CZK
Prices for the whole object and week.
















Look up a recreational object according to your ideas or choose a region in the map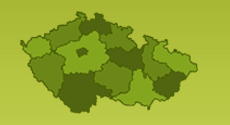 /* // vyrazeno addthis */