Last update: 15.11.2019
Visitors on-line: 41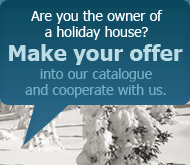 Agentura Chata Tour s.r.o, Ant. Barcala 21. 370 05 České Budějovice, www.chatatour.com

accommodation Carlsbad, holiday homes Carlsbad, accommodation for children Carlsbad:
Region is the westernmost region of the Czech Republic and attracts its visitors primarily known for its spa resorts - vacation for seniors (Marianske Lazne , Karlovy Lazne) and also for its rich history. Holiday cottages are available in beautiful countryside with an abundance of natural attractions and places for relax and regenerate - Accommodation in Karlovy Vary. We can recommend accommodation in the Ore Mountains (the highest mountain Klínovec 1244 m above sea level ) where you can spend a pleasant holiday with children, active vacation at the cottage or cheap holiday in the mountains.

continuation...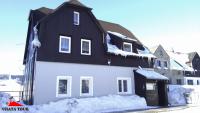 Object code: CH-479 Rent possible from 01/04 - 30/11
free periods and order here include in my selection recommend the object via e-mail
capacity: ,
Category:

Summer price from: 15300 CZK
Low season price from: 13400 CZK
Prices for the whole object and week.















Look up a recreational object according to your ideas or choose a region in the map