Last update: 3.12.2021
Visitors on-line: 113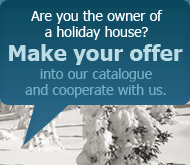 Agentura Chata Tour s.r.o, Ant. Barcala 21. 370 05 České Budějovice, www.chatatour.com

Sending information about the object via e-mail
Agentura Chata Tour does not either monitor or file texts of these e-mails, does not register or save recipients´ and senders´ e-mail addresses, and does nor register information about senders in any matter.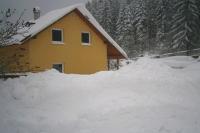 Object code: SK-409 Yearlong rent
The cottage is located in the picturesque mountains of Velka Raca, in the village Oščadnica in Slovakia. The cottage is in a quiet area, in one of the most famous centers of summer and winter tourism. The village Oščadnica is an excellent starting point for various hikes, mountain biking or you can visit the nearby centers like Kalvária, Kaštieľ - Gallery, Church of the Assumption, Kysucké museum, but also a therapeutic - relaxation water center, Relax center - Pool and Sauna. In the center of the village there is a children's lift with ski school (the nearest ski lift is located about 500 m from the cottage in the resort Snow Paradise and Sun Paradise). Guests can use the outdoor seating area, grill and fireplace.
capacity: ,
Category:

Summer price from: 14200 CZK
Winter price from: 18000 CZK
New Year´s Eve price from: 33300 CZK
Low season price from: 13900 CZK
Prices for the whole object and week.
Guests´ ranking:










more in object detail

















Look up a recreational object according to your ideas or choose a region in the map