Last update: 29.5.2020
Visitors on-line: 70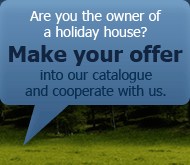 Agentura Chata Tour s.r.o, Ant. Barcala 21. 370 05 České Budějovice, www.chatatour.com

location Černá v Pošumaví, Lipno
Hotel Racek, Černá v Pošumaví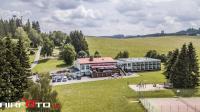 Object code: HO-114 Yearlong rent
Hotel Racek offers accommodation in Černá v Pošumaví, in one of the most popular recreation areas of South Bohemia. Because of its location and wide range of services it is determined for relaxation and active holiday in Lipno in both summer and winter. The hotel went through a partial reconstruction of accommodation and gastronomy rooms, and will satisfy even the most demanding guests. In the restaurant you can enjoy traditional Czech cuisine and specialities, refreshing beer or quality wines. At the restaurant there is a terrace with spectacular views of the lake Lipno and the surrounding hills of the Bohemian Forest. The restaurant is with its capacity and dispositions (terrace, sitting at the bar, two separate lounges) suitable for social events and workshops (corporate events in Lipno, celebrations and banquets, weddings, teambuilding).
detail – request - reservation include in my selection recommend the object via e-mail
capacity: ,
Category:

Summer price from: 950 CZK
Winter price from: 950 CZK
Low season price from: 950 CZK
Prices for person and day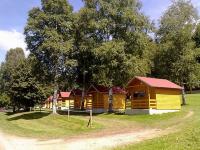 Object code: CH-267 Rent possible 1.5. - 30.10
Wooden cabins are situated in a pleasant location on the shores of Lake Lipno. Place will offer endless possibilities for active and relaxing holiday. The landscape offers excellent conditions for cycling and hiking. In the vicinity of lead in the biking trails. Lovers of water sports and swimming can also come into their own. Nearby (500 m) is found rental boats, pedal boats, windsurfing, mountain biking and port passenger shipping. In season you can enjoy a number of republican and international yacht races. In the nearby village of Hurka can rent a catamaran. This place will simply overwhelm.
detail – request - reservation include in my selection recommend the object via e-mail
capacity: Nr.of persons: 19, Nr.of cottages: 5
Category:

Summer price from: 250 CZK
Low season price from: 250 CZK
Prices for person and day






Look up a recreational object according to your ideas or choose a region in the map