Last update: 22.9.2020
Visitors on-line: 78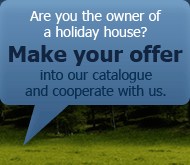 Agentura Chata Tour s.r.o, Ant. Barcala 21. 370 05 České Budějovice, www.chatatour.com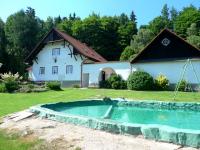 Object code: CH-259 Rent possible 1.5. - 30.10
The former lodge is a large stylish building located in a hamlet 1 km under the top of the mountain called Kohout. The staying in this unique place is in term of the capacity suitable especially for bigger groups or friendly families. The object is built in a large hectare piece of land which neighbours directly on a forest and cyclotracks. You will be surrounded by beautiful countryside and clean woods while the lodge will provide you nice rear for your staying. Except for a living part there is also a large common room with a fireplace situated in an adjecent building across the court, in a barn you can find a table tennis. In the fenced piece of land there is also a covered pergola with sitting and grill and a swimming pool 10x6 m.

Possibility of weekend stayings in low season!
free periods and order here include in my selection recommend the object via e-mail
capacity: Nr.of persons: 20+2, Nr.of bedrooms: 6
Category:

Summer price from: 41000 CZK
Low season price from: 32400 CZK
Prices for the whole object and week.
Guests´ ranking:










more in object detail






















Look up a recreational object according to your ideas or choose a region in the map