Last update: 7.5.2021
Visitors on-line: 66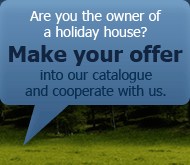 Agentura Chata Tour s.r.o, Ant. Barcala 21. 370 05 České Budějovice, www.chatatour.com

accommodation Greece - Rhodes:
The Rhodes island is situated on the boundary of the Aegean and the Mediterrean Sea, and provides its visitors perfect conditions both for family stays in Rhodes and active holidays and windsurfing in Greece. This beautiful island hides many sights, the history of which goes up to the times of the ancient Greece, and plenty of beautiful beaches and rich recreational enjoyment. The western coast washed by the waters of the Aegean Sea is rather windy and hilly and demonstrates the wild beauty of the island. The eastern coast is peaceful and offers swimming in clear waters of the Mediterrean Sea. The Rhodes town dominates the nothern tip of the island. 
continuation...
Sorry, any of offered objects does not meet your criteria. Please try to change the criteria of your search.

Look up a recreational object according to your ideas or choose a region in the map