Last update: 22.9.2021
Visitors on-line: 86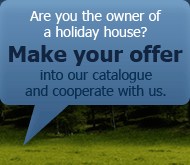 Agentura Chata Tour s.r.o, Ant. Barcala 21. 370 05 České Budějovice, www.chatatour.com

Accommodation Italy:
Italy is together with Greece rightly considered as a cradle of European civilization. Rich history influenced by the ancient culture took shape of Italian towns, arts and lifestyle. All across Italy even nowadays we can meet preserved ancients sights and beautiful Rennaisance towns which directly established the antiquity. So, if you want to get to know the beauties of this unique country we offer accommodation in Italy which provides you privacy and will serve as a suitable starting place for learning surroundings.
continuation...
Sorry, any of offered objects does not meet your criteria. Please try to change the criteria of your search.

Look up a recreational object according to your ideas or choose a region in the map