Last update: 10.8.2022
Visitors on-line: 112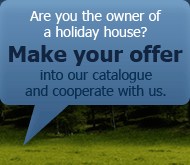 Agentura Chata Tour s.r.o, Ant. Barcala 21. 370 05 České Budějovice, www.chatatour.com

Cottage Sudoměřice u Bechyně -, Bechyně
discount 10.500 CZK
Cottage Hůrka -, Lipno
discount 7.000 CZK
Drslavice, Klatovy
discount 5.000 CZK
Cottage Olešná -, Orlická přehrada
discount 9.600 CZK
Cottage Kubova Huť -, Šumava
discount 4.200 CZK
Cottage Holčovice -, Jeseníky
discount 3.200 CZK
Cottage Brnky -, Praha - okolí
discount 2.200 CZK
Cottage Frahelž -, Třeboň
discount 2.600 CZK
Cottage Petrovice -, Třeboň
discount 1.000 CZK
Cottage Zliv -, Hluboká nad Vltavou
discount 1.310 CZK
detail discount offer
Sending information about the object via e-mail
Agentura Chata Tour does not either monitor or file texts of these e-mails, does not register or save recipients´ and senders´ e-mail addresses, and does nor register information about senders in any matter.
Chalupa u Lipna Černá v Pošumaví -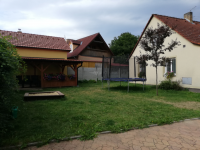 Object code: CH-214 Yearlong rent
Holiday cottage after the reconstruction is located in the attractive place in the town Černá v Pošumaví on the bank of the Lipno lake. The town and its immediate surroundings on the bank of the lake offer many recreational activities: swimming, fishing, surfing, kiteboarding, rentals of bikes, boats and pedals and last but not least a nice rear for families with kids. The sand beach with a toboggan is only 200 m from the object. At the cottage there is a fenced garden 400 m2 with garden sitting, fire, grill and possibility of bike storing.
capacity: Nr.of persons: 9, Nr.of bedrooms: 3
Category:

Summer price from: 18500 CZK
Winter price from: 11000 CZK
New Year´s Eve price from: 18900 CZK
Low season price from: 11000 CZK
Prices for the whole object and week.
Guests´ ranking:










more in object detail
















Look up a recreational object according to your ideas or choose a region in the map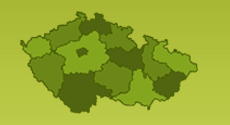 /* // vyrazeno addthis */