Last update: 29.5.2020
Visitors on-line: 71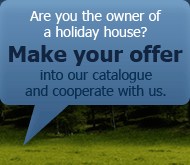 Agentura Chata Tour s.r.o, Ant. Barcala 21. 370 05 České Budějovice, www.chatatour.com

Sending information about the object via e-mail
Agentura Chata Tour does not either monitor or file texts of these e-mails, does not register or save recipients´ and senders´ e-mail addresses, and does nor register information about senders in any matter.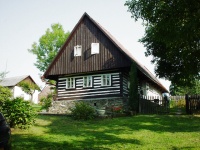 Object code: CH-227 Rent possible 1.5. - 30.10
Stylish timbered holiday cottage is located in a small village Lhota pod Hořičkami 5 km from Ratibořice. Local countryside attacts to its learning: the lake Rozkoš 5 km, ZOO Dvůr Králově nad Labem 15 km, the rocks of Adršpach and Teplice to 35 km, Krkonoše and Orlické mountains to 30 km. Ideal for cycling! There is a partly fenced piece of land 700 m2 with garden sitting, fire and grill, for refreshment there is a swimming pool 7x3 m (conjoint with a neighbouring mini-camp). Built-up area 200 m2.
capacity: Nr.of persons: 6+2, Nr.of bedrooms: 3
Category:

Summer price from: 14100 CZK
Winter price from: 12900 CZK
Low season price from: 8500 CZK
Prices for the whole object and week.
Guests´ ranking:










more in object detail



















Look up a recreational object according to your ideas or choose a region in the map