Last update: 27.1.2021
Visitors on-line: 68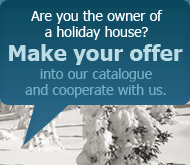 Agentura Chata Tour s.r.o, Ant. Barcala 21. 370 05 České Budějovice, www.chatatour.com

Sending information about the object via e-mail
Agentura Chata Tour does not either monitor or file texts of these e-mails, does not register or save recipients´ and senders´ e-mail addresses, and does nor register information about senders in any matter.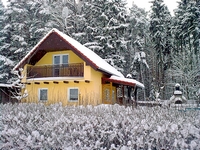 Object code: CH-390 Yearlong rent
Newly built holiday house (in 2008) is located at a forest 400 m from the river Otava, which empties directly into the Orlík lake. The object is situated on the edge of a smaller recreational area 7 km from the town Písek. With its position it gives the possibility to spend holiday in the nature near the forest and the river including swimming, mashrooming, and at the same time it offers the advantages of the close recreational area. In surroundings there are many cyclotracks leading across the historical part of Písek and its surroundings, the castle Zvíkov 7 km, the castle Orlík 18 km (at the both of them there is a boat landing-place). Golf course Kestřany (18 holes) in 16 km from the house. At the object there is a fenced piece of land (600 m?) with garden sitting, parasol, fireplace, grill, swimming pool 3x5 m, sport ground and a children´s sand-pit. Bikes are possible to keep in a closed dependency. Built-up area is 70 m?.
capacity: Nr.of persons: 8 + (2 lůžka za příplatek), Nr.of bedrooms: 3
Category:

Summer price from: 22800 CZK
Winter price from: 15300 CZK
New Year´s Eve price from: 18900 CZK
Low season price from: 17700 CZK
Other: Víkendový pobyt: 4800CZK
Prices for the whole object and week.
Guests´ ranking:










more in object detail





















Look up a recreational object according to your ideas or choose a region in the map