Last update: 21.5.2022
Visitors on-line: 107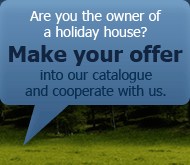 Agentura Chata Tour s.r.o, Ant. Barcala 21. 370 05 České Budějovice, www.chatatour.com

Sending information about the object via e-mail
Agentura Chata Tour does not either monitor or file texts of these e-mails, does not register or save recipients´ and senders´ e-mail addresses, and does nor register information about senders in any matter.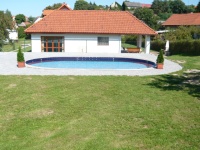 Object code: CH-277 Yearlong rent
New luxuriously furnitured cottage with a relaxation room with a whirlpool is situated in a small village Svídnice in the foothills of Orlické mountains. Fans of hiking and cycling come into their own here - the look-out Vrbice (3 km), the castle Doudleby nad Orlicí (5 km) and others. You must not forgo the view of the memorable pine tree of Svídnice (0,3 km). In surroundings every guest can find something for his enjoyment and sport realization - grass ground (200 m), horseriding (5 km), skittles (10 km), bowling (6 km), fitness centre, sport areal and a swimming pool. There is an fenced piece of land with outdoor sitting, grill (piece of land cca 1.800 m2 surrounded by a brook) and a swimming pool 8x4x1,5 m. Near the object there is a water basin where swimming is possible.
Weekend stayings are not possible.
capacity: Nr.of persons: 8, Nr.of bedrooms: 4
Category:

Summer price from: 18600 CZK
Winter price from: 13400 CZK
New Year´s Eve price from: 23800 CZK
Low season price from: 12900 CZK
Prices for the whole object and week.
Guests´ ranking:










more in object detail




















Look up a recreational object according to your ideas or choose a region in the map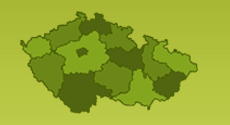 /* // vyrazeno addthis */