Last update: 8.3.2021
Visitors on-line: 79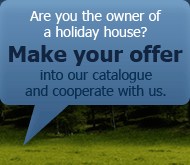 Agentura Chata Tour s.r.o, Ant. Barcala 21. 370 05 České Budějovice, www.chatatour.com

Sending information about the object via e-mail
Agentura Chata Tour does not either monitor or file texts of these e-mails, does not register or save recipients´ and senders´ e-mail addresses, and does nor register information about senders in any matter.
Object code: CH-649 Yearlong rent
Very nice holiday cottage after the complete renovation with central gas heating, two separate housing units is built in the village of Boudy at a distance of 2 km from Čimelice, 12 km from the Orlík lake, 19 km from the royal town of Písek. Many forests, the proximity of the Orlík lake and the castles Orlík, Blatná, Březnice, Zvíkov makes the assumption of great holiday either calm or active - cycling, fishing, walking-tours, or winter cross-country skiing. The building offers enough peace and quiet, it is situated southwards and located at the very end of the settlement in the vicinity of the forest. There are two gardens available, one fully and one partly (from three sides) fenced of the total area 900 m2 with garden chairs, barbecue, garden shower and a parasol, two mountain bikes. There is also a common room for 12 persons with sitting. Built-up area of the building is 240 m2.
In low season it is possible to book only one housing unit with a discount.
capacity: Nr.of persons: 7+4, Nr.of bedrooms: 3
Category:

Summer price from: 15800 CZK
Winter price from: 16300 CZK
New Year´s Eve price from: 22900 CZK
Low season price from: 14500 CZK
Prices for the whole object and week.
Guests´ ranking:










more in object detail














Look up a recreational object according to your ideas or choose a region in the map