Last update: 25.11.2022
Visitors on-line: 121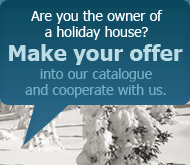 Agentura Chata Tour s.r.o, Ant. Barcala 21. 370 05 České Budějovice, www.chatatour.com

Sending information about the object via e-mail
Agentura Chata Tour does not either monitor or file texts of these e-mails, does not register or save recipients´ and senders´ e-mail addresses, and does nor register information about senders in any matter.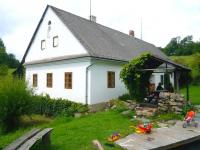 Object code: CH-171 Yearlong rent
The hamlet without the electricity is situated in the middle of pastures and woods in the beautiful countryside of Jeseníky. It is ideal for those who want to have a rest from the city rush and enjoy the peace. Surroundings are suitable for hikers and bikers. You can visit the castle Velké Losiny (25 km), the castle Bouzov (30 km), the stalactical caves Javoříčko (30 km). In the whole object you can only use candles, in each room there is a tile stove for heating. In the unfenced piece of land right in front of the cottage there is a pool (20 m2) available. Except for a garden sitting with grill there are also a covered terrace with table tennis and sauna. For kids there is a sand-pit, petangue and darts. Within 3 km there are also tennis courts.
capacity: nr.of persons 10, nr.of bedrooms 3
Category:

Summer price from: 21998 CZK
Winter price from: 21998 CZK
New Year´s Eve price from: 30000 CZK
Low season price from: 17998 CZK
Prices for the whole object and week.
Guests´ ranking:










more in object detail














Look up a recreational object according to your ideas or choose a region in the map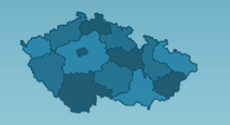 /* // vyrazeno addthis */