Last update: 10.8.2022
Visitors on-line: 110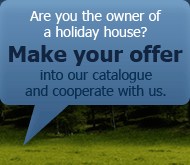 Agentura Chata Tour s.r.o, Ant. Barcala 21. 370 05 České Budějovice, www.chatatour.com

Cottage Sudoměřice u Bechyně -, Bechyně
discount 10.500 CZK
Cottage Hůrka -, Lipno
discount 7.000 CZK
Drslavice, Klatovy
discount 5.000 CZK
Cottage Olešná -, Orlická přehrada
discount 9.600 CZK
Cottage Kubova Huť -, Šumava
discount 4.200 CZK
Cottage Holčovice -, Jeseníky
discount 3.200 CZK
Cottage Brnky -, Praha - okolí
discount 2.200 CZK
Cottage Frahelž -, Třeboň
discount 2.600 CZK
Cottage Petrovice -, Třeboň
discount 1.000 CZK
Cottage Zliv -, Hluboká nad Vltavou
discount 1.310 CZK
detail discount offer
Sending information about the object via e-mail
Agentura Chata Tour does not either monitor or file texts of these e-mails, does not register or save recipients´ and senders´ e-mail addresses, and does nor register information about senders in any matter.
Pro rybáře
Holiday house near the lake Frymburk -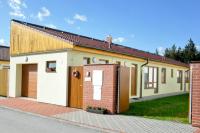 Object code: CH-134 Yearlong rent
The new holiday complex in the desired location Lipno Frymburk offers quality accommodation in comfortably furnished holiday homes. Each house offers its clients demand in the private enclosed garden with outdoor seating and barbecue. Inside is a spacious lounge, fitted kitchen including dishwasher and 3 separate bedrooms.
In summer the surroundings is ideal for cycling, in-line skating, swimming and water sports, in winter there are ski slopes in Lipno nad Vltavou (10 km) or in Austria (Sternstein, Hochficht). You can visit Wellness Hotel Frymburk (100 m from the house) which offers a wide range of services (sauna world, water park, wellness and spa treatments, table tennis, squash, volleyball, bowling, etc.).
capacity: Nr. of person: 8+2, Nr. of bedrooms: 3
Category:

Summer price from: 34300 CZK
Winter price from: 26000 CZK
New Year´s Eve price from: 34300 CZK
Low season price from: 24000 CZK
Prices for the whole object and week.
Guests´ ranking:










more in object detail























Look up a recreational object according to your ideas or choose a region in the map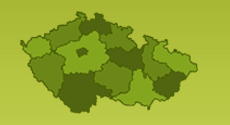 /* // vyrazeno addthis */