Last update: 10.8.2022
Visitors on-line: 108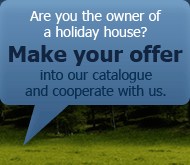 Agentura Chata Tour s.r.o, Ant. Barcala 21. 370 05 České Budějovice, www.chatatour.com

Cottage Sudoměřice u Bechyně -, Bechyně
discount 10.500 CZK
Cottage Hůrka -, Lipno
discount 7.000 CZK
Drslavice, Klatovy
discount 5.000 CZK
Cottage Olešná -, Orlická přehrada
discount 9.600 CZK
Cottage Kubova Huť -, Šumava
discount 4.200 CZK
Cottage Holčovice -, Jeseníky
discount 3.200 CZK
Cottage Brnky -, Praha - okolí
discount 2.200 CZK
Cottage Frahelž -, Třeboň
discount 2.600 CZK
Cottage Petrovice -, Třeboň
discount 1.000 CZK
Cottage Zliv -, Hluboká nad Vltavou
discount 1.310 CZK
detail discount offer
Sending information about the object via e-mail
Agentura Chata Tour does not either monitor or file texts of these e-mails, does not register or save recipients´ and senders´ e-mail addresses, and does nor register information about senders in any matter.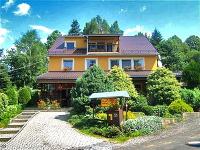 Object code: CH-220 Yearlong rent
Accommodation in apartments is located in a part of the town Jeseník (2.5km from the city center). The surrounding area offers many trails for walkers and cyclists. Winter season offers plenty ski resorts and cross-country trails. In the attic of the house is equipped apartments tastefully decorated inlaid natural wood. On the ground floor in the lobby is available fireplace, billiards and heated swimmingpool. During summer days, you can use large garden (400m2) with childrens playground (swings, trampoline) and a nice sitting at the garden grill under pergola. Infra sauna for guests is available. Parking is at the place (for 5 cars. Possibility of free traffic directly to the ski area.
The owner is living in separate part of house with his own entrance.
capacity: Nr. of persons: 20+3 extrabed, Nr. of bedrooms: 6
Category:

Summer price from: 69600 CZK
Winter price from: 62500 CZK
New Year´s Eve price from: 75000 CZK
Low season price from: 50000 CZK
Prices for the whole object and week.
Guests´ ranking:










more in object detail
























Look up a recreational object according to your ideas or choose a region in the map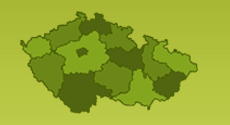 /* // vyrazeno addthis */