Last update: 16.10.2019
Visitors on-line: 66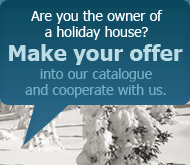 Agentura Chata Tour s.r.o, Ant. Barcala 21. 370 05 České Budějovice, www.chatatour.com

location Nýznerov, Jeseníky
Cottage with sauna in a remote area, Nýznerov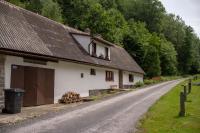 Object code: CH-408 Yearlong rent
The cottage is located off the main road in the village Nýznerov, near the village of Žulová (4 km) and the spa town of Jesenik (16 km), in a valley on the border Jeseníky and Rychlebske hory. In the surroundings there are well-marked trails and hiking trails to Poland.
In the ground floor there is a lounge with kitchenette and dining area, bathroom, separate toilet, room with sauna and a room with a treadmill and steppr. In the attic cottage has 3 bedrooms. Guests have a partially fenced garden with a garden furniture, grill and smokehouse. For children there are swing, slide and sandpit in the garden.
Built-up area is 225 m2.
free periods and order here include in my selection recommend the object via e-mail
capacity: ,
Category:

Summer price from: 16500 CZK
Winter price from: 13000 CZK
New Year´s Eve price from: 24000 CZK
Low season price from: 13000 CZK
Prices for the whole object and week.
Guests´ ranking:










more in object detail























Look up a recreational object according to your ideas or choose a region in the map