Last update: 16.10.2019
Visitors on-line: 71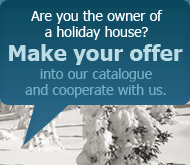 Agentura Chata Tour s.r.o, Ant. Barcala 21. 370 05 České Budějovice, www.chatatour.com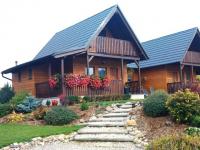 Object code: CH-077 Yearlong rent
Double cottage is located in the mountain village of Red Water in the picturesque countryside Kralický Sněžník. Guests have access to one of the cottage with a private entrance. The second part with almost the same equipment is also rent and can be arranged with the agency to ensure - suitable for friendly families.
Staying here offers a beautiful winter and summer holidays. In the village (300 m) is a ski resort, cross country skiing and around 2-10 kilometers famous ski centers. On the fenced garden guests have access to a swimming pool with sun loungers and outdoor grill with wooden furniture. For children there is an adventure ready wooden house, trampoline, garden house and sandpit for the little ones. For relaxing is the special please in small cottages with finisch sauna.
free periods and order here include in my selection recommend the object via e-mail
capacity: nr. of person 5, nr. of bedrooms 2
Category:

Summer price from: 12810 CZK
Winter price from: 11800 CZK
New Year´s Eve price from: 16800 CZK
Low season price from: 11350 CZK
Prices for the whole object and week.
Guests´ ranking:










more in object detail




























Look up a recreational object according to your ideas or choose a region in the map