Last update: 16.10.2019
Visitors on-line: 66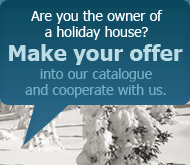 Agentura Chata Tour s.r.o, Ant. Barcala 21. 370 05 České Budějovice, www.chatatour.com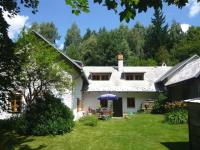 Object code: CH-172 Rent possible from 01/06 - 30/09
A beautifully reconstructed 200yr old farmhouse located in the quiet hamlet of Novy Svet (New World) surrounded by forests and meadows in a part of South Bohemia called Czech Canada. The region is ideal for cyclo-tourism with marked routes through stunning scenery of forests and lakes reaching all the way to the Austrian border (15km). Destinations of interest include the Landstejn castle, the lovely medieval town of Jindrichuv Hradec and the UNESCO sites of Slavonice and Telc. The surrounding woods are full of blueberries and mushrooms and just a couple of kilometres away are two lakes of crystal clear water for swimming (Zvule and Dolni Radikov). The farmhouse has a large garden of 5.000 m2 with an open fireplace for grilling as well as a trolley-grill with seating in a summer-house offering shade and shelter. The forest partially encircles the property. Bicyles can be securely stored in a shed next to the house. This place is ideal for those seeking peace and quiet from the hectic pace of modern life.

The owners speak fluent english.
free periods and order here include in my selection recommend the object via e-mail
capacity: nr.of persons 6 + 2, nr.of bedrooms 3
Category:

Summer price from: 14700 CZK
Low season price from: 9900 CZK
Prices for the whole object and week.
Guests´ ranking:










more in object detail














Look up a recreational object according to your ideas or choose a region in the map