Last update: 20.7.2019
Visitors on-line: 44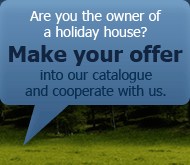 Agentura Chata Tour s.r.o, Ant. Barcala 21. 370 05 České Budějovice, www.chatatour.com

Cottage Holčovice, Jeseníky
discount 2.500 CZK
Cottage Staré Dobrkovice, Český Krumlov
discount 1.500 CZK
Cottage Boudy, Orlická přehrada
discount 2.520 CZK
Cottage Lčovice, Šumava
discount 1.000 CZK
Cottage Olešná, Orlická přehrada
discount 4.000 CZK
Cottage Jeseník, Jeseníky
discount 5.000 CZK
Cottage Rohanov, Šumava
discount 1.500 CZK
Cottage Lišky, Bechyně
discount 1.000 CZK
Cottage Staré Buky, Krkonoše
discount 1.100 CZK
Cottage Okrouhlá, Milevsko
discount 1.000 CZK
detail discount offer
location Mýto pod Ďumbierom, Nízké Tatry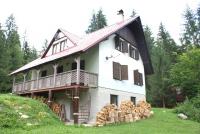 Object code: SK-408 Yearlong rent
The cottage is located in the Low Tatras National Park in a cottage-colony Mlynná and provides quiet accommodation in a forest. Beautiful landscape of the Low Tatras will tempt you for walking, biking or skiing in the winter to ski resorts from 3 km. The cottage is suitable for families with small children and for active undisturbed holiday. There will be a large unfenced garden with a wooden gazebo with seating and barbecue. The garden is also a playground for ball games. Cottage is just 50 meters from the hotel, where you can enjoy sports relaxation center (restaurants, squash, bowling, tennis, swimming pool, massage, ...). Built-up area 110 m2.
free periods and order here include in my selection recommend the object via e-mail
capacity: nr. of persons 14, nr. of bedrooms 4
Category:

Summer price from: 16000 CZK
Winter price from: 22300 CZK
New Year´s Eve price from: 53400 CZK
Low season price from: 15400 CZK
Other: Víkendový pobyt: 4160CZK
Prices for the whole object and week.
Guests´ ranking:










more in object detail



















Look up a recreational object according to your ideas or choose a region in the map