Last update: 16.10.2019
Visitors on-line: 64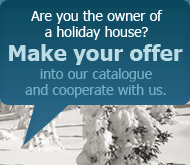 Agentura Chata Tour s.r.o, Ant. Barcala 21. 370 05 České Budějovice, www.chatatour.com

Pro rybáře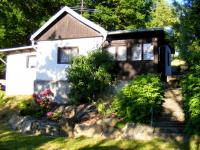 Object code: CH-337 Rent possible from 01/05 until 30/10
The chalet is situated in a quiet place at a forest near the village Oldřiš at the town Jindřichův Hradec. The object is suitable especially for family holiday, for guests there is a steep piece of land 800 m2 with sitting at a fire and a cellar. The meadow in front of the chalet, which also belongs to the owner, is possible to use as a ground for fives etc. In the proximity there is a touristic trail Jindřichův Hradec - Landštejn and many cyclotracks (J. Hradec - Telč). 300 m from the object there is the poossibility of fishing in the Hamerský brook (trout zone, the fishing permit necessary).

Smoking is not allowed inside the house!
free periods and order here include in my selection recommend the object via e-mail
capacity: nr.of persons 4 + 2, nr.of bedrooms 1
Category:


*** LAST MINUTE REDUCTION IN PRICE 500 CZK ***
Summer price from: 6900 CZK
Low season price from: 5800 CZK
Prices for the whole object and week.
Guests´ ranking:










more in object detail

















Look up a recreational object according to your ideas or choose a region in the map