Last update: 14.9.2019
Visitors on-line: 70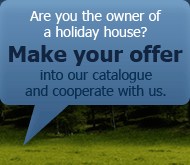 Agentura Chata Tour s.r.o, Ant. Barcala 21. 370 05 České Budějovice, www.chatatour.com

location Litohošť, Vysočina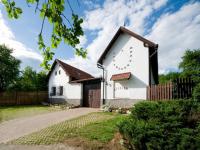 Object code: CH-788 Yearlong rent
Spacious holiday cottage is located on the edge of the small village Litohošť 9 km west of Pelhřimov in the direction of Pacov. The cottage very nicely furnitured, it provides enough privacy and comfort yearlong. You can use a solar heated swimming pool 7x4 m with contraflow, yearlong running whirlpool 2,5 x 1,5 m located in the yard, fitness rooms, table tennis and sauna with restroom which is located inside the house. Piece of land 2.000 m? with garden sitting, grill, sand pit and a small house for children. Built-up area 240 m?. Apart from provided accommodation there is a garden house for 3 persons for CZK 2.000 available.
The final cleaning fee is mandatory and payable upon arrival at CZK 1,000.
free periods and order here include in my selection recommend the object via e-mail
capacity: nr.of persons 13+3, nr.of bedrooms 5
Category:

Summer price from: 38100 CZK
Winter price from: 38100 CZK
New Year´s Eve price from: 50300 CZK
Low season price from: 38100 CZK
Prices for the whole object and week.
Guests´ ranking:










more in object detail




















Look up a recreational object according to your ideas or choose a region in the map