Last update: 23.1.2019
Visitors on-line: 46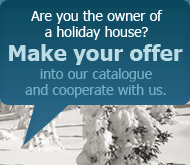 Agentura Chata Tour s.r.o, Ant. Barcala 21. 370 05 České Budějovice, www.chatatour.com

location Bělá pod Pradědem, Jeseníky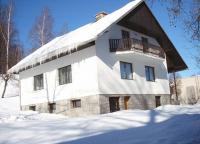 Object code: CH-710 Yearlong rent
Vacation house is built in the village of Bela pod Pradedem in a quiet area, surrounded by forests, located along the ridges of Jeseníky mountains. This highest Moravian mountain range is of the great potential in the active enjoyment in winter and summer months. Not far from the village (about 4 km) there is the famous spa Jeseník and one of the largest tourist and ski resort in Jeseníky - Červenohorske saddle (approx. 13 km). The place is thanks to the calm and clean environment suitable for family holidays of parents with children. The surrounding forests abound in the quantity of mushrooms and other wild fruits. Guests have a large piece of land with garden chairs and barbecue available. Built-up area of the building is 100 m2.
free periods and order here include in my selection recommend the object via e-mail
capacity: nr.of persons 8, nr.of bedrooms 3
Category:

Summer price from: 10200 CZK
Winter price from: 10200 CZK
Low season price from: 8400 CZK
Prices for the whole object and week.
Guests´ ranking:










more in object detail













Look up a recreational object according to your ideas or choose a region in the map