Last update: 10.8.2022
Visitors on-line: 116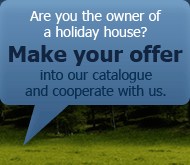 Agentura Chata Tour s.r.o, Ant. Barcala 21. 370 05 České Budějovice, www.chatatour.com

Cottage Sudoměřice u Bechyně -, Bechyně
discount 10.500 CZK
Cottage Hůrka -, Lipno
discount 7.000 CZK
Drslavice, Klatovy
discount 5.000 CZK
Cottage Olešná -, Orlická přehrada
discount 9.600 CZK
Cottage Kubova Huť -, Šumava
discount 4.200 CZK
Cottage Holčovice -, Jeseníky
discount 3.200 CZK
Cottage Brnky -, Praha - okolí
discount 2.200 CZK
Cottage Frahelž -, Třeboň
discount 2.600 CZK
Cottage Petrovice -, Třeboň
discount 1.000 CZK
Cottage Zliv -, Hluboká nad Vltavou
discount 1.310 CZK
detail discount offer
Sending information about the object via e-mail
Agentura Chata Tour does not either monitor or file texts of these e-mails, does not register or save recipients´ and senders´ e-mail addresses, and does nor register information about senders in any matter.
Pro rybáře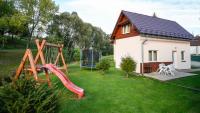 Object code: SK-402 Yearlong rent
Holiday chalets are situated in the village Liptovský Trnovec in the picturesque countryside of Liptov. The area is rich of cultural sights and characteristic folk architecture and folklore. In surroundings: lake Liptovská Mara 0,4 km, Aquapark Tatralandia 1,5 km, Liptovský Mikuláš 5 km, ThermalPark Bešeňová 8 km, Demänovské caves 10 km, ski centre Chopok-Jasná 12 km. In the piece of land there are altogehter 3 chalets which are equipped in the same way. Each chalet has own terrace with sitting, possible to use barbecue. The deblockedion and prices are applied for one chalet only.
capacity: nr. of persons 5+2, nr. of bedrooms 2
Category:

Summer price from: 12000 CZK
Winter price from: 11800 CZK
New Year´s Eve price from: 17000 CZK
Low season price from: 9900 CZK
Prices for the whole object and week.
Guests´ ranking:










more in object detail

















Look up a recreational object according to your ideas or choose a region in the map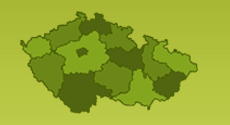 /* // vyrazeno addthis */