Last update: 5.7.2022
Visitors on-line: 115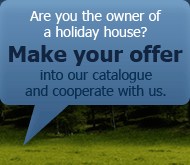 Agentura Chata Tour s.r.o, Ant. Barcala 21. 370 05 České Budějovice, www.chatatour.com

Cottage Hůrka -, Lipno
discount 7.000 CZK
Cottage Hůrka -, Lipno
discount 7.000 CZK
Drslavice, Klatovy
discount 5.000 CZK
Cottage Radslav -, Lipno
discount 2.000 CZK
Cottage Frahelž -, Třeboň
discount 2.600 CZK
Cottage Brnky -, Praha - okolí
discount 1.902 CZK
Cottage Petrovice -, Třeboň
discount 1.000 CZK
Cottage Kubova Huť -, Šumava
discount 1.000 CZK
Cottage Kovářov - , Lipno
discount 2.000 CZK
Cottage Holčovice -, Jeseníky
discount 1.100 CZK
detail discount offer
Sending information about the object via e-mail
Agentura Chata Tour does not either monitor or file texts of these e-mails, does not register or save recipients´ and senders´ e-mail addresses, and does nor register information about senders in any matter.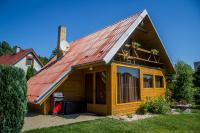 Object code: LE-641 Rent possible 1.5. - 30.10
Nice holiday cottage is located in the small village Roudná (approx. 5 km from Soběslav, 15 km from Tábor). Guests can use the kitchenette connected to the living room and bathroom, in the attic there are 2 bedrooms with a terrace, which are passthrough.
The surrounding area is suitable for cycling and hiking trips, and many marked trails can be used. The historical city Tábor, Chýnov Cave, spa town Bechyně is worth seeing. 200 meters from the building are clean sand pits ideal for bathing, near the distant River Lužnice will delight all fishermen. Guests have access to a fable garden with an area of 350 m2 with garden seating under the pergola, barbecue, fireplace and swimming pool with a diameter of 3.66 m. A sandpit and a wooden swing are available for young children. The built-up area of the building is 45 m2.
capacity: Nr.of persons: 5, Nr.of bedrooms: 2
Category:

Summer price from: 10800 CZK
Low season price from: 8600 CZK
Prices for the whole object and week.
Guests´ ranking:










more in object detail

















Look up a recreational object according to your ideas or choose a region in the map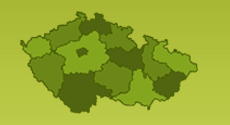 /* // vyrazeno addthis */