Last update: 12.7.2020
Visitors on-line: 78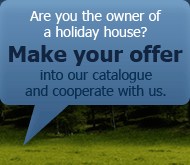 Agentura Chata Tour s.r.o, Ant. Barcala 21. 370 05 České Budějovice, www.chatatour.com

Sending information about the object via e-mail
Agentura Chata Tour does not either monitor or file texts of these e-mails, does not register or save recipients´ and senders´ e-mail addresses, and does nor register information about senders in any matter.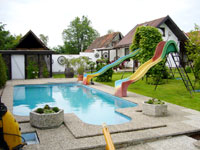 Object code: CH-181 Rent possible 1.5. - 30.10
The chalet is located in the owner`s nicely maintained fenced garden, wchich is divided into two parts. The object is located near the south-bohemian metropolis České Budějovice (the reach of the city public transport) where clients can find all the social availability which can be offered in this city. In the proximity there is a covered hall with the possibility of sport enjoyment. Golf teeing-ground, tennis, football, volleyball. There is a garden with a large pergola with summer kitchen with the possibility of barbecue and sitting at out-door fireplace. The advantage of this chalet is a big swimming pool 7x4 m which is also available. The owner fully respects the clients`s privacy.

Weekend stayings possible in low season!
capacity: Nr.of persons: 5, Nr.of bedrooms: 1
Category:

Summer price from: 9000 CZK
Low season price from: 8100 CZK
Other: Víkendový pobyt: 2900CZK
Prices for the whole object and week.
Guests´ ranking:










more in object detail













Look up a recreational object according to your ideas or choose a region in the map