Last update: 6.6.2020
Visitors on-line: 61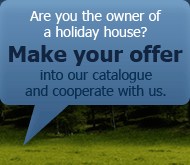 Agentura Chata Tour s.r.o, Ant. Barcala 21. 370 05 České Budějovice, www.chatatour.com

Sending information about the object via e-mail
Agentura Chata Tour does not either monitor or file texts of these e-mails, does not register or save recipients´ and senders´ e-mail addresses, and does nor register information about senders in any matter.
Pepicentrum, Velké Karlovice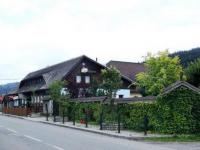 Object code: PE-755 Yearlong rent
PEPICENTRUM restaurant and guesthouse is situated in the picturesque village of Velké Karlovice extending in the foothills of Beskydy and Javorníky. The landscape is due to its ruggedness ideal for cycling. Directly by the house runs the newly built cycle path, which belongs to the network Hornovsacké highway. There is organized Karlovský Pepimaraton (cycling). Just opposite the house there are tennis courts with clay surface, football field with artificial surface and in the summer there is the newly renovated swimming pool, where you can enjoy the following attractions: a large swimming pool - slide, massage jets, beads. After 19 hours on Wednesday and Friday there is a sauna (for a fee). In winter, this region is frequently visited mainly by skiers. There are ski resorts with modern lifts. For cross-country skiers there is a large amount of ridge trails. No wonder they are called the Great Karlovice paradise for skiers. Skis or bikes can be stored in a lockable double garage.
capacity: ,
Category:

Summer price from: 290 CZK
Winter price from: 290 CZK
Low season price from: 290 CZK
Prices for person and day

















Look up a recreational object according to your ideas or choose a region in the map