Last update: 10.8.2022
Visitors on-line: 131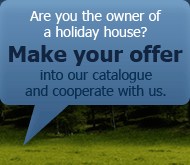 Agentura Chata Tour s.r.o, Ant. Barcala 21. 370 05 České Budějovice, www.chatatour.com

Cottage Sudoměřice u Bechyně -, Bechyně
discount 10.500 CZK
Cottage Hůrka -, Lipno
discount 7.000 CZK
Drslavice, Klatovy
discount 5.000 CZK
Cottage Olešná -, Orlická přehrada
discount 9.600 CZK
Cottage Kubova Huť -, Šumava
discount 4.200 CZK
Cottage Holčovice -, Jeseníky
discount 3.200 CZK
Cottage Brnky -, Praha - okolí
discount 2.200 CZK
Cottage Frahelž -, Třeboň
discount 2.600 CZK
Cottage Petrovice -, Třeboň
discount 1.000 CZK
Cottage Zliv -, Hluboká nad Vltavou
discount 1.310 CZK
detail discount offer
Sending information about the object via e-mail
Agentura Chata Tour does not either monitor or file texts of these e-mails, does not register or save recipients´ and senders´ e-mail addresses, and does nor register information about senders in any matter.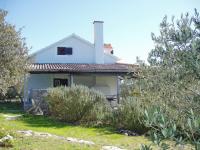 Object code: HR-807 Rent possible 1.6. - 30.9
Zadejte text nebo adresu webu nebo přeložte dokument.
The fishing lodge is located on the mainland in an olive grove in a quiet secluded part 1 km from the town Pirovac (between Zadar and Sibenik). The house is distanced from other objects are 200-300 meters, so there you have your privacy.
Pirovac is a picturesque town in northern Dalmatia and is a popular tourist destination thanks to lovely coves and pebble beaches. In the resort of Pirovac there are several nice restaurants where you can try the excellent seafood and local specialties.
In addition to families with children, Pirovac point of interest for fans of fishing, as in a nearby lake, called Vrana, you can catch an unusually large catfish, carp and run away.
capacity: nr. of persons 2+1, nr. of bedrooms 1
Category:

Summer price from: 20900 CZK
Low season price from: 17000 CZK
Prices for the whole object and week.










Look up a recreational object according to your ideas or choose a region in the map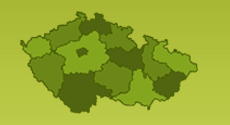 /* // vyrazeno addthis */