Last update: 10.8.2022
Visitors on-line: 114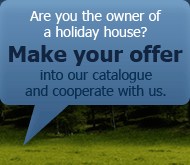 Agentura Chata Tour s.r.o, Ant. Barcala 21. 370 05 České Budějovice, www.chatatour.com

Cottage Sudoměřice u Bechyně -, Bechyně
discount 10.500 CZK
Cottage Hůrka -, Lipno
discount 7.000 CZK
Drslavice, Klatovy
discount 5.000 CZK
Cottage Olešná -, Orlická přehrada
discount 9.600 CZK
Cottage Kubova Huť -, Šumava
discount 4.200 CZK
Cottage Holčovice -, Jeseníky
discount 3.200 CZK
Cottage Brnky -, Praha - okolí
discount 2.200 CZK
Cottage Frahelž -, Třeboň
discount 2.600 CZK
Cottage Petrovice -, Třeboň
discount 1.000 CZK
Cottage Zliv -, Hluboká nad Vltavou
discount 1.310 CZK
detail discount offer
Sending information about the object via e-mail
Agentura Chata Tour does not either monitor or file texts of these e-mails, does not register or save recipients´ and senders´ e-mail addresses, and does nor register information about senders in any matter.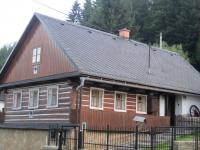 Object code: CH-121 Yearlong rent
Nice cottage with a wine bar, a large grill party and sauna is located in the forest near the river Tichá Orlice in the Orlické mountains.
The cottage has a fully equipped kitchen, large living room with tiled stove, 2 bedrooms, children's play area (table football, hockey, darts), stone room (tavern), bathroom, sauna, relaxation room and bathing barrel with heater for 6 persons for year-round use. There is a fenced garden with a large covered grill party with sitting area, fireplace and grill. Parking is available at the object. There is nature reserve Zemská brána, dam Pastviny, aquaparks in the town Žamberk and Ústí nad Orlicí. In the winter you can ski in 1 km far away Mladkov-Petrovičky (tow 800 m, snowpark) or in the Sportareál České Petrovice, Ski resort Červená voda or in the ski resort Dolní Morava. Possibility of fishing in the river Tichá Orlice (only 20 m from the object) or in the dam Pastviny.

capacity: Nr.of persons: 9+3, Nr.of bedrooms: 2
Category:

Summer price from: 16580 CZK
Winter price from: 14580 CZK
New Year´s Eve price from: 28700 CZK
Low season price from: 14400 CZK
Prices for the whole object and week.
Guests´ ranking:










more in object detail


























Look up a recreational object according to your ideas or choose a region in the map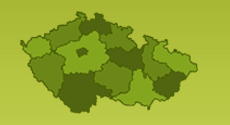 /* // vyrazeno addthis */