Last update: 22.1.2020
Visitors on-line: 78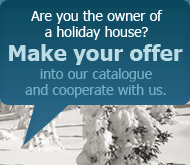 Agentura Chata Tour s.r.o, Ant. Barcala 21. 370 05 České Budějovice, www.chatatour.com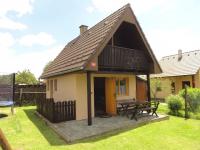 Object code: CH-038 Rent possible 1.5. - 30.10
Cottage is in a small area in South Bohemian town of New Bystřice lying on the border with Austria. This area is also called Czech Canada for its charming and beautiful nature.
On the ground floor there is a kitchen, bathroom with shower and toilet. Upstairs are 2 bedrooms doorway. Pleasant relaxation will then provide outdoor seating on the terrace. For children there is a trampoline and swings. There is also the possibility of mushrooming of cycling sightseeing or fishing and swimming in the nearby rybníních. Built-up area 25 m2.
free periods and order here include in my selection recommend the object via e-mail
capacity: nr. of persons 5, nr.of bedrooms 2
Category:

Summer price from: 7990 CZK
Low season price from: 7990 CZK
Other: Víkendový pobyt: 2800CZK
Prices for the whole object and week.
Guests´ ranking:










more in object detail




















Look up a recreational object according to your ideas or choose a region in the map