Last update: 22.9.2021
Visitors on-line: 97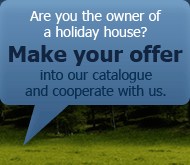 Agentura Chata Tour s.r.o, Ant. Barcala 21. 370 05 České Budějovice, www.chatatour.com

Automatic information about the temporarily booked term release
Sorry, there are no temporarily booked terms at this object at the moment available.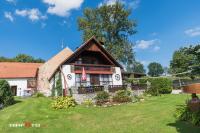 Object code: CH-378 Rent possible 1.5. - 30.10
Nice holiday chalet is situated in a quiet place on the edge of the village Vlkov near Ševětín. The place is suitable for family holiday, also hikers, bikers and mashroom-pickers come into their own here. The object have for clients available own part of the garden with sitting. Except for the sitting on the terrace and behind the chalet (fire + grill) there is a grass ground with a net for fives, and a swimming pool (3,4 m).
free periods and order here include in my selection recommend the object via e-mail
capacity: Nr.of persons: 6+2, Nr.of bedrooms: 2
Category:

Summer price from: 11800 CZK
Low season price from: 9200 CZK
Prices for the whole object and week.
Guests´ ranking:










more in object detail




















Look up a recreational object according to your ideas or choose a region in the map