Last update: 7.5.2021
Visitors on-line: 60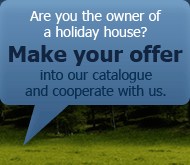 Agentura Chata Tour s.r.o, Ant. Barcala 21. 370 05 České Budějovice, www.chatatour.com

Accommodation – holiday in the Czech Republic – pensions and hotels catalogue
Internet catalog Pensions and hotels offers many personally proved and quality hotels, pensions and apartments. We offer accommodation in various recreational regions in Czech Republic, Austria, Greece and also in exotic Indonesia on Bali. You can choose wide range of different types of accommodation. We recommend relaxing holidays, holidays with children, winter and summer holidays, fishing holiday, accommodation in the hotal spa and wellness, accommodation in a mountain hotel and mountain pensions. Choose your accomodation and enjoy pleasant holiday full of relax and experience.The quality of accommodation in a hotel or pensions, including quality services from the hotel is always reliable.
Whole offer accommodation in hotels and pensions you can find on website www.abc-hotel.cz, where you can choose accomodation whitch will fit to your ideas. Company Abc-hotel offers thematic catalogs: accommodation in the mountains, romantic accommodation, housing for seniors, accommodation in the hotel spa and wellness services, accommodation for cyclists, accommodation for clients ro relax and weekend holiday at the hotel or pensions.Add to catalogue!
If are you looking for a hotel or pensions for wedding and other important social events, you can choose the perfect guest house in the catalog Weddings.
<<< Back

Look up a recreational object according to your ideas or choose a region in the map