Last update: 9.10.2015
Visitors on-line: 47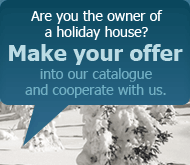 Agentura Chata Tour s.r.o, Ant. Barcala 21. 370 05 České Budějovice, www.chatatour.com

Cottage Hřeben, Kaplice
discount 2.900 CZK
Cottage Oldřiš, Jindřichův Hradec
discount 1.000 CZK
Cottage Krásetín, Blanský les
discount 1.600 CZK
Cottage Roudná, Soběslav
discount 1.000 CZK
Masákova Lhota, Šumava
discount 700 CZK
Cottage Vrcovice, Orlická přehrada
discount 800 CZK
Cottage Vlkov u Ševětína, České Budějovice
discount 1.000 CZK
Okrouhlá, Milevsko
discount 1.000 CZK
Cottage Lišky, Bechyně
discount 1.000 CZK
Cottage Rudolfov, České Budějovice
discount 500 CZK
detail discount offer
location Rohanov, Šumava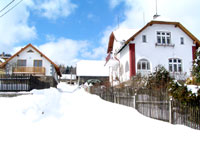 Object code: CH-092 Yearlong rent
Mountain cottage is located in the mountain village Rohanov under the known mountain Javorník. Ideal starting place for trips in the Bohemian Forest, for cycling, mashrooming. You can visit the castles Kašperk, Velhartice, Rabí or the town Vimperk, look-outs Javorník and Boubín, the first South-bohemian open-air museum Hoslovický mnlýn (6 km). In Horažďovice (25 km) you can find a modern aquapark which is suitable not only for kids. In the proximity of the object there are two ski-lifts (2 km Javorník), the ski centre if the Bohemian Forest Zadov-Churáňov (10 km), a ski slope in Kašperské hory (10 km). Within 1 km you can make use of sauna and tennis courts, whirlpool 2 km (Vacov). In surroundings you can admire beautiful countryside of the Bohemian Forest. The main advantage of this object is the possibility of accommodation for 12 persons. There is a large fenced garden with garden sitting, fire, grill, garden shower and swimming pool (1,8 x 1,8, 0,55 m deep), for kids a sand-pit. WIFI internet connection for free! Built-up area 120 m2. The house neighbours on the object CH-090.

The owner uses the second part of the object with the separate entrance for his occasional recreation.

free periods and order here include in my selection recommend the object via e-mail
capacity: nr.of persons 10+2, nr.of bedrooms 4
Category:

Summer price from: 13900 CZK
02.07.2016 - 27.08.2016
Winter price from: 15600 CZK
12.12.2015 - 12.03.2016
New Year´s Eve price from: 25400 CZK
26.12.2015 - 26.12.2015 24.12.2016 - 31.12.2016
Low season price from: 11800 CZK
Prices for the whole object and week.
To order the house cleaning at the end of the stay possible
Guests´ ranking:










more in object detail

















Look up a recreational object according to your ideas or choose a region in the map