Last update: 22.9.2020
Visitors on-line: 73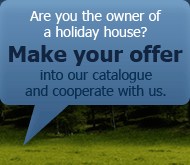 Agentura Chata Tour s.r.o, Ant. Barcala 21. 370 05 České Budějovice, www.chatatour.com

Černá v Pošumaví Lipno
Object code: CH-267. Rent possible 1.5. - 30.10.
Wooden cabins are situated in a pleasant location on the shores of Lake Lipno. Place will offer endless possibilities for active and relaxing holiday. The landscape offers excellent conditions for cycling and hiking. In the vicinity of lead in the biking trails. Lovers of water sports and swimming can also come into their own. Nearby (500 m) is found rental boats, pedal boats, windsurfing, mountain biking and port passenger shipping. In season you can enjoy a number of republican and international yacht races. In the nearby village of Hurka can rent a catamaran. This place will simply overwhelm.
include in my selection recommend the object via e-mail available terms and prices
capacity: Nr.of persons: 19 Nr.of cottages: 5 Category:

Summer price from: 250 CZK
Low season price from: 250 CZK
Prices for person and day
Additional information about the object:
Cottages offer accommodation in new and older 2-4 bed cabins with cozy wooden interior.
Equipment cottage: bed, desk, chair, wardrobe
New bathroom stands alone and is common.

The dwellings are located bistro with excellent food, then you will find a restaurant and bar.
On site is a children's play area with sandpit and a multi-sports pitch.
Possibility of water sports and swimming with sandy or grassy beach offers about 30 meters distant reservoir.
Parking is located on site. For cyclists and motorcyclists are ready lockable spaces.
Facilities, surroundings:
| | | | | | |
| --- | --- | --- | --- | --- | --- |
| | Restaurant - at the place | | Car park - at the place | | Fishing - at the place |
| | Water sports - for rent at the place | | Swimming in the nature - at the place | | |
Heating: Electric
Object surroundings:
Do not forego:
recommend an interesting link in surroundings
Český Krumlov
|
Rafting, divoká voda
|
Lipno - šumavské moře
|
Lipensko
|
Skiareál Lipno
|
Golf Lipno
|
NP Šumava
|
Bobová dráha
|
Motokáry Lipno
|
Stezka konurami stromů
|
Vítkův Hrádek
|
Království lesa
* STAYING request - inquiry about the possibility of booking.

Look up a recreational object according to your ideas or choose a region in the map