Last update: 28.11.2023
Visitors on-line: 91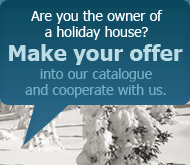 Agentura Chata Tour s.r.o, Ant. Barcala 21. 370 05 České Budějovice, www.chatatour.com

Wine cellar Dobrovolný Nový Šaldorf Podyjí
Object code: PE-750. .
The Dobrovolný winery is located in the village of Nový Šaldorf, which is the part of Znojmo region. The village, where you can find more than 200 wine cellars, is located near the historic royal town of Znojmo and Podyjí National Park. The Dobrovolnýl winery has a large basement complex of tunnels carved in sandstone. The Cellar is, in the entire complex of Blue Cellars in Nový Šaldorf, unique in that it is carved into the sandstone in the Gothic style, while most other cellars have character Romanesque arches. Today the functional form of the vault required a costly reconstruction. Reconstruction of the building basement adjacent to the existing complex was built pension with a capacity of 28 beds in double rooms with private bathroom. On request we can provide breakfast buffet.
include in my selection recommend the object via e-mail available terms and prices
Category:


GPS: 48° 49' 33.7" N 16° 03' 15.7" E map with a route planer
Summer price from: 400 CZK
Winter price from: 400 CZK
Low season price from: 400 CZK
Prices for person and day
Additional information about the object:
The underground cellar premises are used for maturing and storage of wines and hosts tours and tastings straight. Their clearway is used for technological processing of grapes. Above ground floor offers a comfortable seating area. The Dobrovolný winery now utilizes four cellars. The three are interrelated and are under pension and seating area. The fourth is used as an archival cellar. Facilities basement complex offers five rooms for sitting. Two smaller groups are suitable for 15 and 20 guests, larger rooms have 40 and 50 seats, a new hall on the ground floor can accommodate 120 visitors. Thus, the total capacity is up to 245 seats.

We offer a tour of the cellar tasting of still wines and archive samples, provide refreshments in the form of soft drinks and foods like platters and hot dishes to order. For special occasions you can prepare a hot and cold buffet. Furthermore we'll find live music upon customer demand or live music (accordionist, a small musical group or dulcimer), respectively. The premises are suitable for various social and corporate events or weddings and wedding receptions, catering and tastings in Podyjí.
Facilities, surroundings:
Heating: Non specified
* STAYING request - inquiry about the possibility of booking.

Look up a recreational object according to your ideas or choose a region in the map