Last update: 5.7.2022
Visitors on-line: 124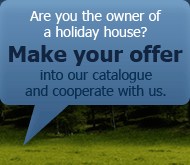 Agentura Chata Tour s.r.o, Ant. Barcala 21. 370 05 České Budějovice, www.chatatour.com

Guesthouse U Zámku, Milotice u Kyjova Slovácko
Object code: PE-713. Yearlong rent.
Guesthouse U Zámku is located in the village of Milotice u Kyjova in Kyjovské Dolňácko. Kyjovské Dolňácko boasts both a long tradition of wine, but still lively folklore. Guesthouse U Zámku is housed in a building whose history is inextricably linked with a chateau of Milotice. Milotice state chateau is one of the most beautiful baroque castles in the Czech Republic.
The location is also suitable for cycling. Cycle route no. 412 passes through the Dubňany, Milotice, Kyjov, Bukovany, Ostrovánky, Nechvalín, Lovčice. Ends at the top U Slepice, where it joins the route no. 473. In the vicinity there are also two nature reserves - Písečný rybník a Horky. Below the hill Náklo is a group of wine cellars called Šidleny.
include in my selection recommend the object via e-mail available terms and prices
Category:

Summer price from: 250 CZK
Winter price from: 250 CZK
Low season price from: 250 CZK
Prices for person and day
Additional information about the object:
Total capacity is 28 persons in 7 rooms with private facilities with Wi-Fi access. There is 1 double and 1 triple room, 2 quadruple and triple bedrooms. All guests can use a shared kitchen with all the amenities, ie. microwave, TV, stove, fridge, kettle, crockery.
Parking is available in an enclosed courtyard at the guesthouse where there is even room for bikes, playground and outdoor sitting area with fireplace.
Facilities, surroundings:
| | | | | | |
| --- | --- | --- | --- | --- | --- |
| | Car park | | Tennis court | | Volleyball ground |
| | Fireplace | | Castle | | Swimming |
| | Bowling | | Internet | | Suitable for children |
Heating: Non specified
* STAYING request - inquiry about the possibility of booking.

Look up a recreational object according to your ideas or choose a region in the map